Valley Truck Parts (VTP): A new initiative from Pit Patrol
 
This business was formed to address a real shortcoming in the local area – namely off-the-shelf supply of truck parts and consumables.
As a major fleet operator ourselves, we constantly found all parts coming from Newcastle – which costs time, money, organisation, downtime and frustration.
With the support of Truckline Newcastle, Pit Patrol formed VTP as a Truckline distributor in Singleton.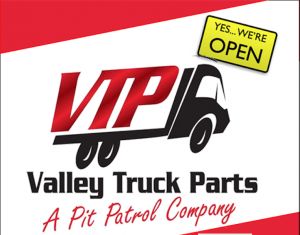 We also stock parts from many other suppliers.
To make the business viable, maintain products on the shelf and support local business – we need your support.
 
We would be very keen to show the service, products and benefits we can offer. These include:
Common parts on the shelf in Singleton – at Newcastle or better prices. No freight no delays.
Delivery of all parts to your store/ workshops as either general or express freight.
24/7 emergency supply and delivery of parts for breakdowns as required.
Product knowledge and support as well as cross referencing of parts for more economical purchasing.
Competitive supply of all products, with alternatives available in many instances – eg Donaldson vrs Fleetguard.
Dedicated service to your fleet – we can have your parts picked and packed ready for your vehicle service.
Fleet management; We can have your vehicles on file, know their parts, know their specifics and have the specific items or service kits ready to go.
Procurement of obscure items where site does not have an existing account with the supplier.
Our ideal service would involve VTP to be in contact with your maintenance team daily or weekly.
Knowing which vehicles are due in the coming days/week and have in stock all goods (as a dedicated service kit) including;
Caltex & Castrol Lubricants
Safety signage, lights & flags
Donaldson & Fleetguard Filters
Cleaning products
Brake parts & accessories                 
Narva & Britax LED Lights & Mirrors
Air Valves, fittings and hoses
SP Tools, Kincrome &Work Shop Specials
Timken Seals & Kits
Any other consumables